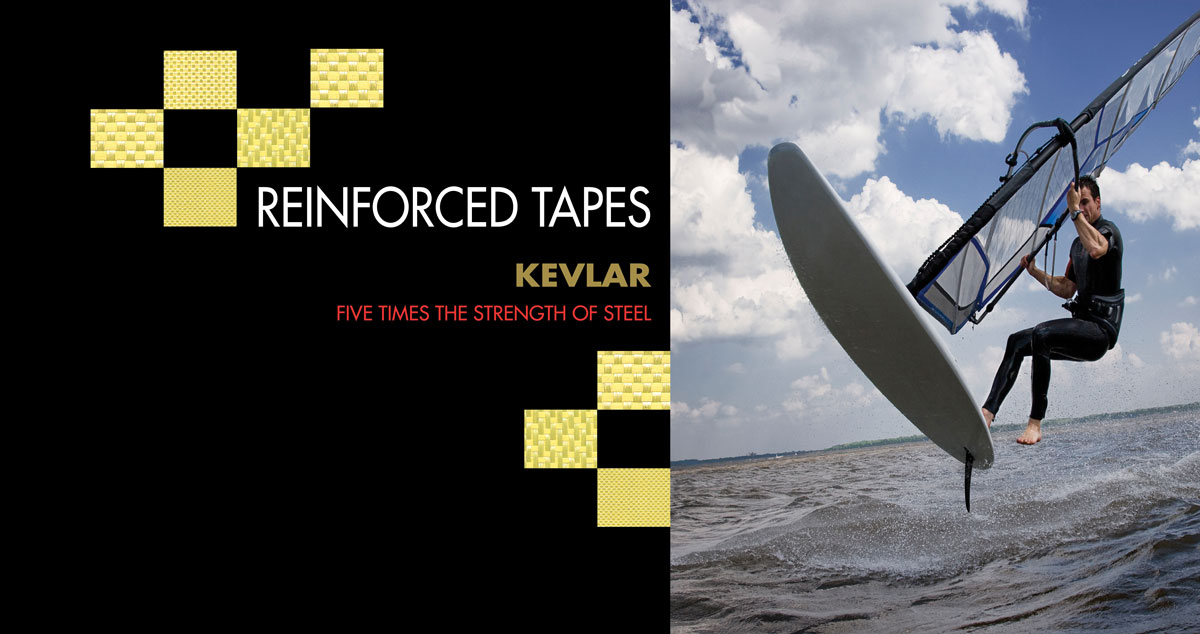 Five times the strength of steel
KEVLAR is a Du Pont registered trademark for its unique family of aramid fibers that are manufactured into tapes by Mutual. KEVLAR 49, a higher modulus fiber, is woven into bi-directional fabric tapes for plastic reinforcement of parts. Specific applications of Mutual's Kevlar bi-directional fabric tapes include:
• Plastic reinforcement (epoxy, polyester, vinyl)
• Lightweight marine laminates for kayaks, canoes, and high performance water craft
• Asbestos replacement products
• Aircraft and aerospace parts
• Snow skis
KEVLAR bi-directional fabric tapes by Mutual have the highest specific tensile strengths of any continuous fiber fabric commercially available. They are two and a half times as strong as "E"-glass, five times as strong as steel, and over ten times as strong as aluminum. Specific tensile modulus of KEVLAR 49 is three times that of "E"-glass and 75% of high strength graphite.
KEVLAR fabric tapes by Mutual display excellent stability over a wide range of temperatures for prolonged periods. The fabrics will not melt or support combustion but will start to carbonize at about 800 degrees F (427 degrees C). Even at temperatures as low as -320 degrees F (-196 degrees C), the Kevlar bi-directional fabric tapes show essentially no embrittlement or strength loss. They also have excellent dimensional stability.
Other design properties of Mutual's Kevlar bi-directional fabric tapes include:
• The ability to be combined with most commercially available resins
• The ability to adapt easily to standard processes used with glass fibers
• High stress rupture life
• Excellent cyclic tension fatigue resistance
• Good vibration damping characteristics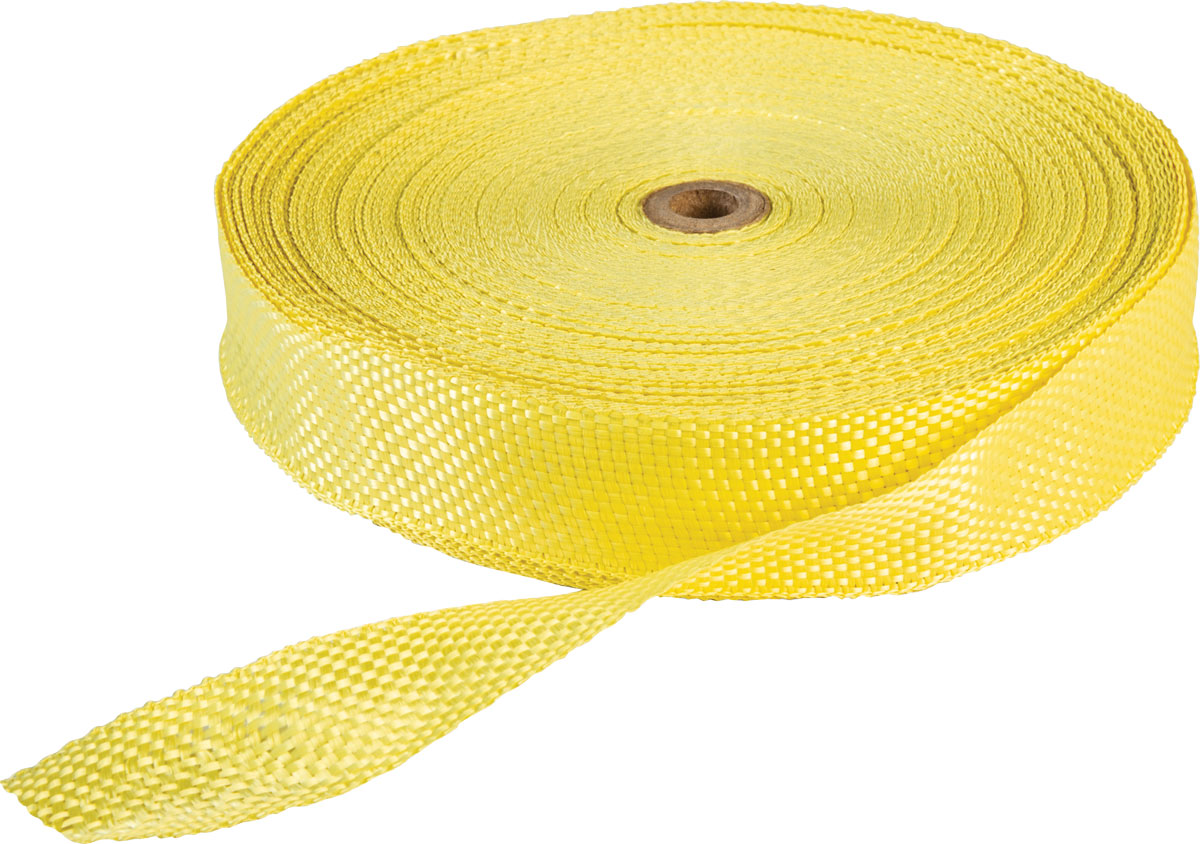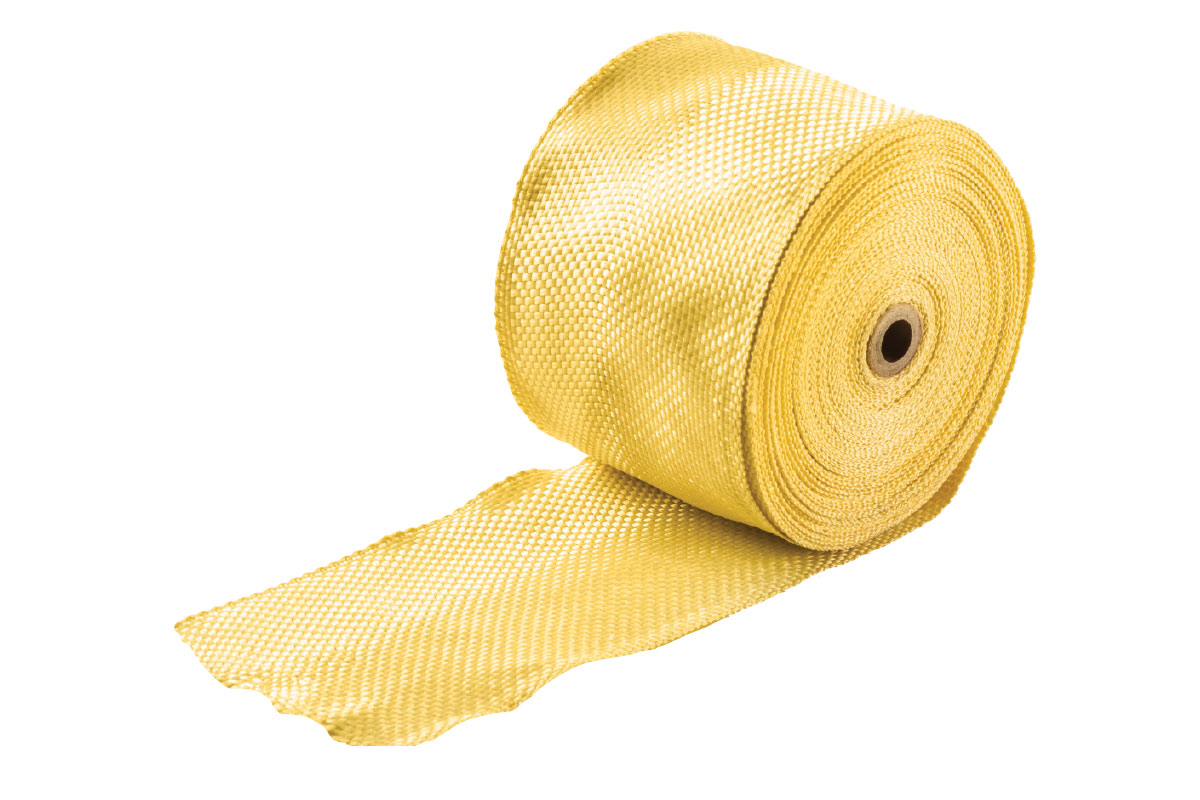 Kelvar™ 49 Fabrics
Style
Yarn Type
Weave
Count
Weight
(oz/sq yd)
Thickness
(inch)
K120
195
Plain
34x34
1.8
0.003
K281
1140
Plain
17x17
5.0
0.012
K285
1140
4HS
17x17
5.0
0.012
K328
1420
Plain
17x17
6.8
0.015
K500
1420
Plain
13x13
5.0
0.012
K900
2160
5HS
16x16
9.0
0.020
Kelvar™ 29 Fabrics
Style
Yarn Type
Weave
Count
Weight
(oz/sq yd)
Thickness
(inch)
K713
1000
Plain
31x31
8.3
0.015
K710
1500
Plain
24x24
9.6
0.017
K735
1500
2 x 2 Basket
35x34
13.8
0.23
K745
3000
Plain
17x17
14.5
0.025
Typical Properties
Kelvar™ 29
Kelvar™ 49
Twaron 1000™
Twaron HM 1055™
Tensile Strength:
(KSI)
525
525
406
406
Tensile Modulus:
(MSI)
12
18
11.6
18
Contact Us for More Information
For additional information or for a quote on any Mutual product, please Call Toll Free (800) 523-0888 or (215) 927-6000 or E-mail your request to mutualtape@mutualindustries.com or use the form below.

707 W. Grange St. • Philadelphia, PA 19120 • Tel: (215) 927-6000 • Fax: (215) 927-3388 • Call Toll Free (800) 523-0888 Outside of PA