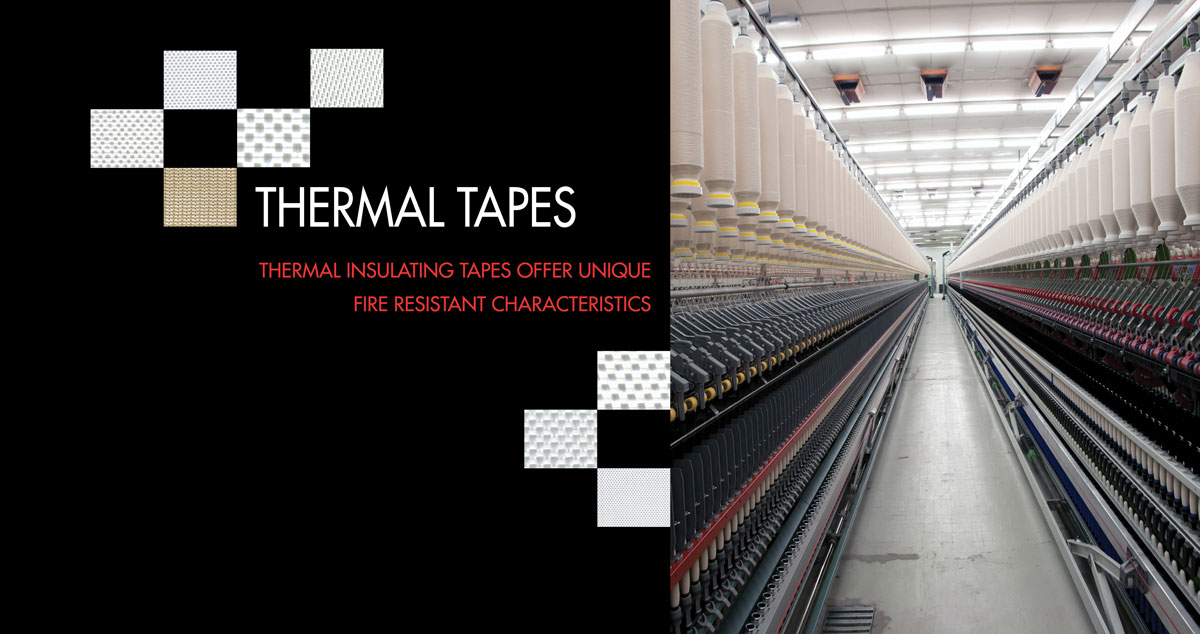 Thermal Insulating Tapes offer unique fire resistant characteristics
Mutual's texturized fiberglass thermal insulating tape fabric is made from a continuous mulistrand yarn. Texturized fiberglass tapes are thicker, have more bulk, and are used extensively for insulation, gasketing, and fire and heat resistant applications. basically, both fiberglass and ceramics can be used as a true replacement for asbestos. Both are stronger than comparable asbestos fabric and have none of the recognized health hazards associated with the use of asbestos.

Outstanding characteristic of Mutual Thermal Glasswebs and Ceramics
• High heat resistance
• Non-flammable
• Relatively light in weight
• Superior dimensional stability
• Chemical resistance
• High tensile strength
• Superior accoustical insulating abilities
• Very flexible
• Immune to thermal shock
• Superior electrical properties
• Conforms to MIL-C-20079F and MIL-Y-1004H
• Available in 1/32″, 1/16″, 1/8″ and 1/4″ thicknesses
• Can be treated with many special finishes
• Meets applicable government specifications
Mutual's thermal insulating fiberglass fabric tapes can withstand continuous temperatures to 1200 degrees F (650 degrees C). Ceramic tapes can withstand temperatures to 2300 degrees F (1200 degrees C) Both fiberglass and ceramic fabric tapes are also impervious to all chemicals except hydrofluoric and phosphoric acids.
Contact Us for More Information
For additional information or for a quote on any Mutual product, please Call Toll Free (800) 523-0888 or (215) 927-6000 or E-mail your request to mutualtape@mutualindustries.com or use the form below.

707 W. Grange St. • Philadelphia, PA 19120 • Tel: (215) 927-6000 • Fax: (215) 927-3388 • Call Toll Free (800) 523-0888 Outside of PA